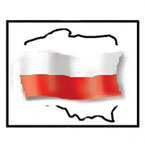 Our customer is our boss and work whereas our aim is profitability. Dachspin.pl is a leader in its branch offering high quality roof tile accessories. The development of the newest technologies and perfect agreement between sales and production department caused the appearance of the new portal which enables new market to extend.
We meet the expectations of the European market. The production of roof tile fixing materials with traditions from 1999 is getting richer in experience with each year, building up tuned team of coworkers with wide perspectives of development. Innovative solutions boost the development of our machine park. We aim to be the market leader. On the basis of long years of experience we offer products which combine good quality with reasonable price. One of the most crucial aspects of our activity is also the attitude to our customers. We listen to suggestions and expectations. It allows us to perfect our services and optimally fit our offer in. We would like that our dachspin.pl were perceived as friendly and competent. Our company runs the business on the national and international level. We serve retail and wholesale customers who have the possibility of purchasing the products in our shop when contacting us and getting inherent discounts. We issue the proof of sales to each purchase in the form of
a receipt or VAT invoice. Each purchase is under warranty.